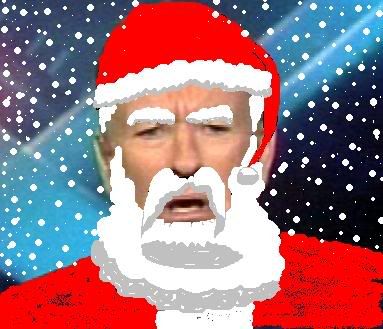 Dear Billy O'Reilly,
Your words are strong, sir. I have taken up the challenge to fight against you and your ilk in your War Against Christmas.
I'm gonna use all the power that I have on radio and television to bring horror into the world of people who are trying to do that.
That's right--you and Falwell, John Gibson who wrote that libelous rag,
The War on Christmas
.
You
want to destroy Christmas. I will take up that fight.
I am the atheist Champion for Christmas
Enough of this fancy schmancy talk.
History has proven that every time Christians like you have won your war against Christmas. you have banned it.Prohibited Christmas.

You do not own Christmas. Christmas owns you.. Christmas has you hornswaggled into performing pagan rites and using pagan symbolism. Christmas has you going against your religion, violating very important tenets--like not having anything to do with pagan activities, such as putting up trees, kissing under the mistletoe, decking the halls with boughs of holly, and burning yule logs.

And celebrating the solstice.

(Which is at the very root of your religion, by the way.)

Now, this information is more and more available to everyone. The Christians who can acknowledge that may be able to say "I can celebrate this season AND acknowledge my God's official arbitrary birthday, even though I know it's not his birthday at all," are the ones who are mature enough to loosen their grip on this imaginary thing and share the fucking month of December with everyone else.

Look--we don't even get any sass from Muslims about this. It can be done.

I'd like to hold you, Billy, to your promise. Along with the the horror and that nonsense,
you must now expose me, say my name and put my picture on Fox. But you won't, because I am on to your evil, diabolical plans.

I know, it won't happen. Besides--I am not opposed to Christmas. He is.