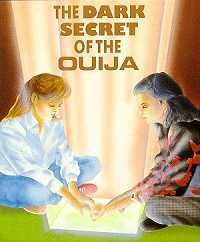 I just got a list email from James Randi where he previewed one of his upcoming articles on
his site
. He
linked to a transcript of a PBS article
about Facilitated Communication and Dr. Douglas Biklen. According to Randi on a
previous article,
Dr. Douglas Biklen is the genius behind "facilitated communication," the claptrap idea that has some scientists convinced that severely autistic children are actually geniuses who write poetry and have intellectual abilities far beyond what we ordinary mortals can ever suspect. This bizarre process consists of a "facilitator" holding the typing hand of a child, and "guiding" it on the keyboard of a special machine. The child can be screaming, struggling, looking at the ceiling, or even on the floor with its hand held over the keyboard, yet intelligible words appear. The "facilitator," however, watches the keyboard carefully….
It seems that facilitated communication is somewhat like the ideomotor effect, the phenomenon at work when using a Ouija Board.
According to the Skeptic's Dictionary,
Facilitated Communication (FC) is a technique which allegedly allows communication by those who were previously unable to communicate by speech or signs due to autism, mental retardation, brain damage, or such diseases as cerebral palsy. The technique involves a facilitator who places her hand over that of the patient's hand, arm or wrist, which is placed on a board or keyboard with letters, words or pictures. The patient is allegedly able to communicate through his or her hand to the hand of the facilitator which then is guided to a letter, word or picture, spelling out words or expressing complete thoughts. Through their facilitators, previously mute patients recite poems, carry on high level intellectual conversations, or simply communicate.
and Skeptic's dictionary on The Ideomotor Effect:
The ideomotor effect refers to the influence of suggestion or expectaton on involuntary and unconscious motor behavior. The term "ideomotor action" was coined by William B. Carpenter in 1852 in his explanation for the movements of rods and pendulums by dowsers, and some table turning or lifting by spirit mediums (the ones that weren't accomplished by cheating). Carpenter argued that muscular movement can be initiated by the mind independently of volition or emotions. We may not be aware of it, but suggestions can be made to the mind by others or by observations. Those suggestions can influence the mind and affect motor behavior.
Of course, this would suggest that those involved in FC are only naive, not immoral. I think that perhaps many parents who were taught the technique are playing Ouija Board with their kids. But is Biklen simply hapless or immoral? Stay tuned to randi.org for more, and read the PBS transcript. Faced with this info, how can anyone be simply naive?
By the way, the advocates at
Breaking the Barriers h
ave turned it into a political issue. they are activists for "the right to communicate."
Communication is the foundation for all interactions. Meaningful relationships develop when each person is respected, valued and embraced as an active member in every interaction. True friendships are born on a level playing field. "Inclusion" moves from being a politically correct thought to a true experience. All people bring a unique gift and life experience to any interaction. Seeking that gift begins by acknowledging the personhood of an individual first and labeling them last!

A method that is effective for an individual needs to be respected and supported, even if some question its validity for everyone. Every person is an individual and has the right to communicate with the method they choose and or effectively have the ability to use for communication.

If a person communicates differently you may have to listen differently to support them.

We need people to understand that labels of autism or mental retardation are how people without disabilities try to label our experience - but really it is a label for your experience - what you see or experience a person doing. The label or what you see them doing tells you nothing about what they are experiencing or what they "get" from what their actions. This needs to be learned on a person-by-person basis.

Facilitated Communication has been a controversial form of augmentative communication. However, many of us who require touch to type have used facilitated communication for a number of years, and this form of communication has allowed us to achieve incredible progress, and has made a significant difference in our lives.

Incredible--apparently the site was designed through the use of human ouija boards! I agree, that it is very important to let people have a voice. That is precisely what this "technique" is preventing!


"

Every person is an individual and has the right to communicate with the method they choose."

That would be great, if these individuals were choosing at all! Stuff a ball-gag in your kid's mouth, tell everyone what she is saying, and then claim that she "chose" to speak through her mother. Great. Perhaps this is naiveté, but as we know, willful ignorance is the cause of great injustice and evil.

Finally, as one would expect, the ball-gaggers use their human ouija boards to beg for money:

What we ask of each of you
…Sign on to the Right to Communication Resolution

Support funding for alternative and augmentative communication – including funding for access to equipment and facilitators.

And that's always what it comes down to, doesn't it?