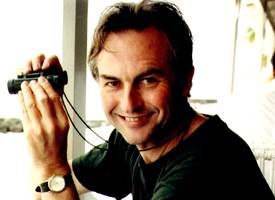 The Public-Intellectual Menace
On Richard Dawkins's irresponsible and irrational dogmatism.

So Carson Holloway is strong, but you aren't. You can't handle the "truth."

Fortunately, that "truth" is believed by Carson Holloway, not the rest of us, and least of all, Richard Dawkins.

It's the standard Christian lie. First, you create the idea that God is everything. Then, when you take away God, tah dahh! You have nothing! It's a sad, and meaningless life. Sigh. And you can't handle that. Bad Richard Dawkins! Bad!


Its (the Selfish Gene) apparent debunking of any higher purpose in nature caused this person "a series of bouts of depression" lasting over a decade.
That's what you get when you lack reading comprehension. As long as you're already depressed.

Well, being a believer doesn't mean you have a math degree.

If the universe =X,
and God is the universe,
God=X.
X-X=0.

But for an atheist:
The universe=X
God = 0
X-0=X

Obviously, there was no God in the equation in the first place. Even if God had once existed, and was "taken away," we would not need it to show us the value of things and people. God is represpented by this fellow as both X and something that is there simply to remind us of the value of X. Like a holy price tag, as Francois would say. If a price tag falls off an item, does it then lack value? Tell that to the clerk at Nordstom's.

Why do grown adults need to be reminded that there is a world out there to enjoy? That they have friends, family, and lots of great things out there to be interested in, say, like saying Richard Dawkins is cruel and dangerous? That kind of hobby can keep a person's mind off God for a good long time. Basically, without God, there is...writing National Review articles. That ain't nothing, math genuis.

(Via J-Walk Blog)