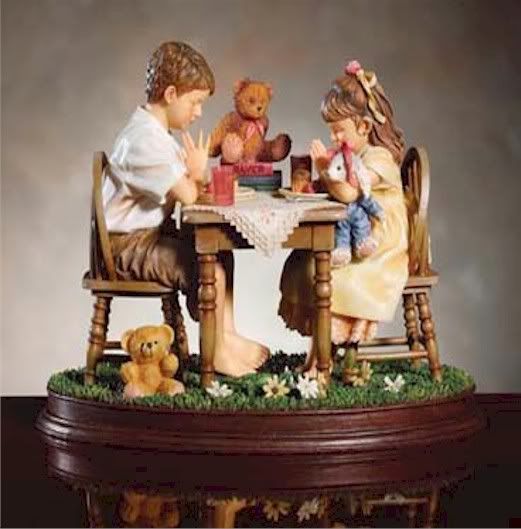 A Warning to Breeders: this is what will trip y'all up. You get yourself a kid before you ever had the chance to understand thoroughly
why
you chose to leave a faith behind. Then you go and get yourself knocked up. You start to nest, and you fall into the
nostalgia trap.
Who cares about reality? You've got a
role
to fill! You're a mother, and if you do
ONE THING WRONG WITH THIS KID YOU'LL HATE YOURSELF FOR THE REST OF YOUR LIFE!!!
So, away with the sex toys, back to the town you swore you'd never set foot in again, and you start thinking, "Power inbalance? Physical abuse? Who
cares?
I
deserved
it, and my parents did the best they could." You get scared, and you release your personal moral autonomy--it takes a village, right? And
what about Christmas?
Well, fear no more!
Have you ever heard an atheist reminisce, or complain that being a Christian was so much fun? All those great benefits to being a christian there are, that we are now missing out on?
Well, I've done
Christmas
to death, and I'm sure to kill it deader around next christmas, but here's the first installment in my series:
You Are Not Missing Squat, Unbeliever, And if You Are, You Are A Dope, My Friend
.
Saying Grace
Isn't it nice? Stopping a moment to look at the food and really
appreciate
it before you shovel it in your mouth. Isn't that what a family is...
SUPPOSED TO BE?!?
A
family
sits around the table. A
family
stops and appreciates each other, smells the food, bows their heads in humility and gives thanks for the food. What could possibly be wrong in that, and
why the hell am such a cynical curmudgeon to take that lovely tradition away from people?
Maybe we atheists should ALL do it too?
Maybe being a Christian isn't so bad?
Well, I'll tell you.
Cheers!
Salut!
Prosit!
Skal!
L'Chaim!
Toasts
. People gather around the table, eating food, drinking wine, and someone raises a glass. To being together. To the happy couple. To our health and happiness! To the cook! What aren't they doing that makes them miss the lovely moment that the family saying grace gets? They are looking at each other with smiles, not bowing their heads. They are acknowledging the reality of the moment, the food and the friendship, not
making a spell
over their food, or appealing to a
feared ghost
, begging him to make their food edible, and to keep them together. "Blessing" the food. The toast is not a spell over the food, but an acknowledgement of it. Toasts are fun. Grace is mandatory. Toasts can be made by anyone. Grace is generally either done by the one holding power in the family, or assigned to a family member by the most powerful. Both are rituals, both are about food.
So, atheists, what are we missing? The only thing here is what I've heard in complaints by ex-christians who still aren't quite sure why--the force is gone. I've heard ex-christians lament that atheists just aren't forced to do what's good for them, like stopping to appreciate the blessings in their lives. Unfortunately, folks, that's what I hear from most of you. But I have to ask: where's the appreciation when you're forced? (If you don't know why freedom is such a big deal, keep reading. I'm gonna pound it into you in the next few days. I can't
force
you, though.)
Certainly, the coercion exists in group dynamics involving toasts. But I wanted to start simple, ease you in. If you have an aspect of Christianity that you think is essentially missing in an athiest's life, comment in this blog.