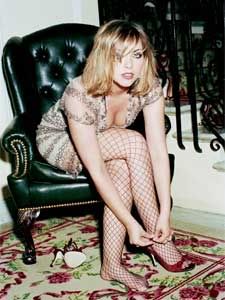 Charlotte Church: You've hit the nail on the head!
Charlotte Church wants Tom Cruise as a guest on her new TV show - but thinks he would refuse because he doesn't have a sense of humour.

The 20-year-old Welsh singer is hosting a new programme, 'The Charlotte Church Show', on Channel 4 which is a mixture of interviews, singing and comedy.

Charlotte admits Tom would be a dream guest but doesn't think he would be happy to join in with the funny sketches.

She said: "I met Tom Cruise when I was about 15, doing the Jay Leno show in Los Angeles. He was ridiculously nice, came and knocked on my door and said that his kids were fans of mine.

"I'd love to have big stars like him on my show, but I'm not sure if they'd be as keen to join in all the silliness."
Darling, considering the subject matter of your show, not only wouldn't Tom be into the silliness, his church wouldn't be, either.