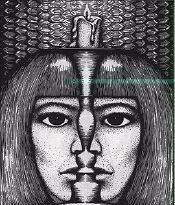 The story of A.S.A Jones can be found on his site,
ExAtheist.com.
A.S.A (Artistically Spreading Antitruths) Jones was a SCIENTIST! For real! A big old materialist who read philosophy and went to college and everything! He really was "one of us!" Then he "saw the light" and realized that premarital sex was evil, homosexuals were abominations, and that he was, too. Amazing how someone can completely empty his ego and retain self-obsession!
I graduated from college with high honors and my prized science degree, but I had lost any motivation to apply that knowledge. I recalled staring at a swarming mass of termites one sunny day, thinking that, from a comparative distance, there was little difference between them and us. I smashed a few dozen with my shoe and ground them into the dirt. What did it matter if these died? What did it matter if they all died? People died every day. The end result would always be death for both the individuals and, eventually, the species.
Humanity had become nothing more to me than an organized network of molecules and enzymes. I viewed people as mere organisms going through their daily routines of metabolizing nutrients and expelling wastes, ovulating their eggs and ejaculating their semen. I knew the psychology of humans almost as well as their anatomies. The hidden things that pulled them this way and that were very evident to me. They were like guinea pigs, only more predictable, and my chief form of entertainment was to see how skillfully I could manipulate them. I knew that I was supposed to care about them, but I didn't. I couldn't. If mankind's goal was to alleviate its own suffering, a bullet to the head was more efficient and made more sense in my thinking than screwing around with medication or disease control.
I read the whole thing and posted a bit about it on
Normal Bob Smith's
MySpace blog. (Click on " ATHEISM TO CHRISTIANITY - by A.S.A. Jones" on the right-hand column under his blog entries.) Here is the main post:
Long Post...

This is where I stopped reading and knew this to be at least mostly false:

"I tried several other atheist philosophers (he doesn't mention any names other that Sartre? Hm...--alleee) who tried to assign meaning to a life created by chance and I decided that they were all full of crap. If our life is the result of randomness and chance, it is meaningless, no matter how we try to convince ourselves otherwise."

No scientist who understands evolution would intelligently claim that "our life is a result of randomness and chance." Yes, there are some who don't, and perhaps chemists don't. I don't know. My question is: what part of "natural selection" implies random chance?

"I set out to take advantage of moral relativism and effectively destroyed any of my remaining conscience."

That has nothing to do with atheism and everything to do with belief. Moral relativism is a position that is far more compatible with Christianity and other monotheistic beliefs than "atheistic philosophy." Note he didn't mention Ayn Rand. Any atheist turning to philosophy worth his salt at least cracks open some Rand. Who hated moral relativism. Hate her all you want--she was VERY flawed--but she was definitely against moral relativism. As was Kant--and Nietsche. How many atheistic philosophers ARE moral relativists? I can't think of any. Anyway, here is why christianity is morally relative. All moral no-nos, dos and don'ts, and all laws--are subject to God's whims. If he changes his mind, the morals change. Yet He is not subject to those very laws. This is basically Might Makes Right. Christian morality is meaningless--no such thing. Morality is about making judgement, and Christians are prohibited from judgement. Just obedience. So I don't know what this moron is talking about. If he is for real, his studies took him in a ... retarded...direction. Leading to Christianity.

"Materialism means life is meaningless." Again, not a position of atheistic philosophers, and directly opposed to the uplifting philosophies of the greatest atheistic and agnostic SCIENTISTS out there: Carl Sagan and Richard Dawkins. If he had read the most prominent works of contemporary atheists, he would know that. If he had dipped his toe in the koi pond of an ancient and yes, ATHEISTIC RELIGION, Buddhism, he would know that. Did he live under a rock? Public school? No internet? Or perhaps the self-important ramblings of AN UNDERGRAD? Hmm...


Here's where my brain started rotting. A Being Authored Morality. I can feel the grey matter leaking. The glurge of this urban-legend-type prose rises. He falls to his knees, he humbles himself, he gets all wet and covered with tears, the Dominus--I mean, the Christ pointing an accusing whip--I mean, finger, at him. It's practically sexual, this hedonism. Science provides him no Funnyland, no way to expell the built-up ego that was yearning for spirituality. He couldn't find a way to make it himself. He found no enlightenment from facts, which never owed him enlightenment in the first place. Which he would know, had he taken a little peek at Buddhism, Carl Sagan, etc, etc.

Which proves something important. Atheism is not The Answer. It means nothing in and of itself. When one is a seeker, a reactionary position has no answers, nor does it owe anyone answers. It just is. A negative position cannot be a positive position, no matter how hard you wish upon a star.

I don't have the answer either. Atheism just says "the answer does not lie in belief, and it does not lie in surrender." However, what it CAN do for some people is to wipe away the fog of belief, in order to clear a path for thought. It can't make you happy, or give you what you want. But it can help you be free to do so. Some people just don't know that they are free.

Anyone interested, we have a site about reasons to be atheistic, http://www.graveyardofthegods.org .
I kept going, as my curiosity and frustration rose: was it real or was it fraud? My conclusion is that anyone can become a fanatic. I believe his acceptance of moral relativism helped him accept the moral relativism of Christianity, although he posts against moral relativism on his site. I hope he enjoys his "humility."


P.S. I enjoyed his post called "
THE GAME DESIGNER ARGUMENT
WHY GOD'S MORALITY IS OBJECTIVE "
(What is wrong with that phrase? Anyone? Anyone? Hint: "God's Morality.")


In this post, he calls our purpose a game God designed. Life is a game. Yet he says that atheists' lives have illusionary purpose, because they have to make it for themselves. Only a God can give meaning. Presupposition. Sorry. My life is not a game--it's real. I can't even apply a fallacy to this, because it's not an argument, just an assertion.