Inspired by
Paleo-Future.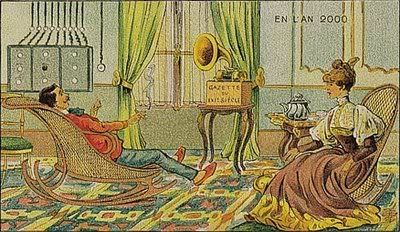 LHJ1
Alleee 1
Dr. BLT * Try to Remember (September 11)
LHJ2 Utilities
Lenny Dee * 1900 Yesterday
Jorge Torrens * King of the Road
LHJ3 Cellphones
Gene Rain * Bangcock Cockfight
Aren Steinbrecher * Taliban on the Run
………………………………………….
LHJ4 Health
Connie Boermans * Rue aux Fleurs
The Fifth Dimension * Coke Commercial
LHJ5 Electricity
Roy Harte and Milt Holland * That Old Devil Moon
David Laurence * Unborn Baby of Tower One
………………………………………………
LHJ6 Email
Myron Floren * Alexander's Ragtime Band
Penny Marshall and Cindy Williams * Our Yearbook
LHJ7 Food
Enoch Light and his Light Brigade * The Sheik Cha-Cha-Cha
Thurl Ravenscroft * I Ain't Afraid
LHJ8 Language
…………………………………………………………..
Carlos Piper Orquestra * Pink Panther Theme
Ancient Chinese Secret
LHJ9 Photo
Carl Stevens * Skokkian
Rollie Willis and the Contenders * Whenever I Get Lonely
LHJ10 Population
The Bran Flakes * Squishing Sniffy Artists Busted
LHJ 11 Stereos
Erroll Garner * Autumn Leaves
Alleee 2
Downloading is the Marvel of the New Age!