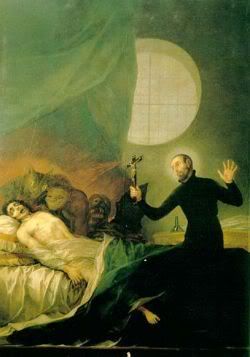 NSFW.
With thanks to Penn and Teller's
Bullshit!
Exorcism Bullshit 1
Alleee 1
The Count of Monte Cristo and Congo Bey * Zombie Jamboree
Exorcism Bullshit 2
Lou Levy * Ding Dong the Witch is Dead
Dinah Washington * My Man's an Undertaker
Exorcist Bullshit 10
Marty Gold and his Orchestra * King of the Mountain
Danny Hutton * Monster Shindig
Exorcist Bullshit 3
Michel Legrand * Old Devil Moon
DeVol * Whatever Happened to Baby Jane?
Exorcist Bullshit 4
Lenny Dee * Satan Takes a Holiday
Ray Stevens * Laughing over My Grave
Exorcist Bullshit 5
Ralph Marterie and his Orchestra * Haunted Guitar
Jan August * The Naughty Ghost
Exorcist Bullshit 11
Billy Strange * Munsters Theme
Anton LaVey * Gloomy Sunday
Exorcist Bullshit 6
Billy May * Return of the Zombie
Napolean X Revue * He's Going to Eat Me Up
Exorcist Bullshit 7
Sid Bass and his Orchestra * The House is Haunted
David Seville * Witch Doctor
Exorcist Bullshit 8
Nono Morales and his Orchestra * Mr Ghost Goes to Town
Cab Calloway and Orchestra * The Ghost of Smokey Joe
Exorcist Bullshit 9
The Phantom * Whispering
Nat "King" Cole * Ol' Man Mose Ain't Dead
Alleee 2
Download this Bullshit