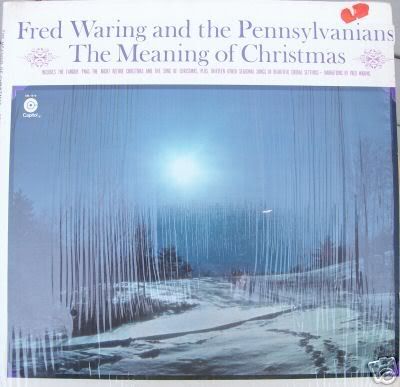 Yes, it's my first album sharity, and it's a doozy.
Fred Waring came up with a
non-rock 'n' roll
concept album
for Christmas. (Psst: it is not a secular album, for all of you who come here for my atheistic snottiness, but it is a
fantastic
album.) There are undoubtedly many songs here that most of you have never heard. And that's something. The style is, if you aren't aware of Fred Waring's sound in the mid sixties, what they used to call
Light Classical.
Not "light classical" in the sense of digital music services today who think light classical means Handel and Mozart. Who are they, anyhow? Light Classical is Andre Kostelanetz. 101 Strings, before they tried to go psychedelic. Mantovani (mostly). Rich orchestration, traditional choral arrangements, and heavy on the fantasia. Want a short taste?
Link expired-check comments for info about how to buy album.
BTW, on this album, you get to hear ol' Fred himself, explaining what Christmas means. What a treat!
Playlist:
Christmas Magic
Holiday
A Musical Christmas Card
Christmas Tree
Mistletoe
Carol of the Bells
Snow, Snow, Beautiful Snow
The Sleigh
The Echo Carol
Kentucky Wassail
Medley: Toyland/March of the Toys/Toyland
Rudolph the Red-Nosed Reindeer
'Twas the Night Before Christmas
The Song of Christmas
...and, for those of you who desire a
pure
musical,
lying-on-the-carpet -in-front-of-the-Magnovox-Hi-Fi-console
experience, with no fadeouts:
Side 1 ( the first twelve songs)
Fred Waring and his Pennsylvanians: The Meaning of Christmas zipfile on YouSendIt
(Go ahead and request a re-post if you missed it.)
PS: If anyone has this one before I can dig the cover out of storage, slip me the liner notes, if you can.