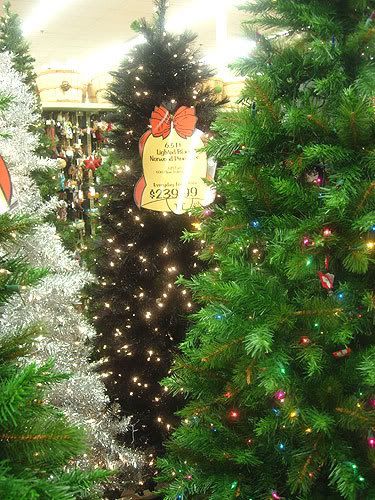 Sorry I haven't updated yet this week.
I have a nasty case of bronchial pneumonia that has been brewing in a disgusting soup in my lungs for 3 weeks now. Give me a couple of days and I will come up with something for a podcast. I just haven't been myself...or sleeping...or anything like that for a long time. Oh, yeah, I'm working--working like some kind of working animal, because it seems that the day after Halloween has suddenly become CHRISTMAS FUCKING SHOPPING BONANZA USA.
"IS THIS 50% OFF? HEY IS THIS DOG BEE COSTUME ON SALE? MA'AM?!? MA'AM?!?"
COUGH IN YR FACE LADY.
I went to Wal-Mart today because I had to, to find some nasty-tasting medicine for my cough, and the minute I walk in the door, it's
"O Little Town of Bethlehem, please buy all kinds of Craaaaap..."
So, I got my nasty-tasting medicine and I got my cat a new collar that glows in the dark, and then I went to the Christmas room to look at trees, 'cause I need a tree and I need to pass my virus or whatever pneumonia is to the nice people who are trying to pay the rent and whose fault the Christmas music isn't.
I saw a 6-foot, black Christmas tree.
Zowee! Maybe, just maybe that could be my tree. Or not. Could a person get tired of that? Or would it really show off the silver ornaments?
Anyway, I await my dad, who will be working on weatherproofing my windows today. See you in a couple of days.