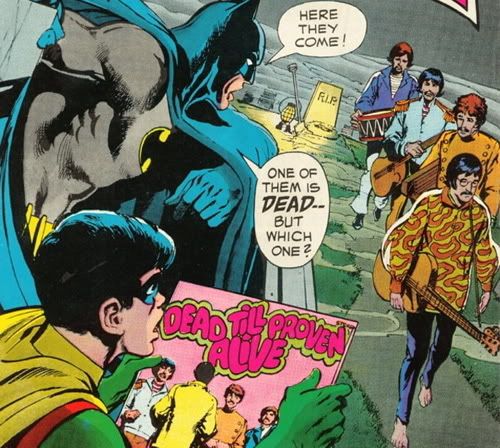 And here is part 2. I told you, didn't I?
Playlist
Paul is Dead 11
Mike Melvoin * The Ballad of John and Yoko
Alleee 3
The Sandpipers * And I Love Her
Paul is Dead 12
Moog Machine * Get Back
Troy Corey * Honey Pie
Paul is Dead 13
Gordon Langford * Yellow Submarine
Moog Machine * Hey Jude
?
Paul is Dead 14
Helmut Zacharias * Ob-La-Di, Ob-La Da
Peter Sellers * She Loves You
Paul is Dead 15
Les and Larry Elgart * Nowhere Man
R.A.M. Pietsch * Piggies
Paul is Dead 16
Enoch Light * I Wanna Hold Your Hand
Sergio Mendes and Brasil '66 * Fool on the Hill
Paul is Dead 17
Jim Carrey * I Am the Walrus
Teddy Lee * Maxwell's Silber Hammer
Paul is Dead 18
Percy Faith * You've Got To Hide Your Love Away
Troy Cory * Imagine (Yeah, I know.)
Paul is Dead 19
Yamaha Superstar * Something
Dread Zepplin * Golden Slumbers, Carry That Weight
Paul is Dead 20
Alleee End
Secret Bonus Track, shhh
I'm Downloading (Hey, I Tried.)